三维软件中文版Maxon Cinema 4D R17 Win/Mac完整版破解版含注册机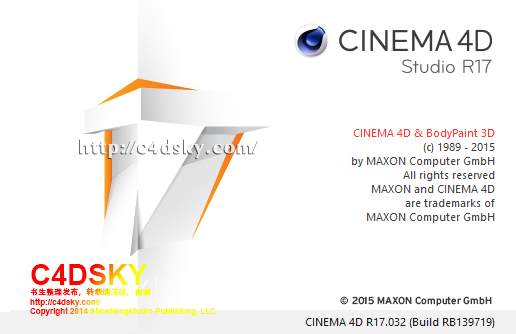 三维软件中文版Maxon Cinema 4D R17 Win/Mac完整版破解版含注册机
Cinema 4D R17是一款最容易使用的专业的三维软件,比以往任何时候都更有效。新工具以及扩展和完全重做功能,可以帮助你把你的想法变成现实更快,也更轻松。改进的工作流可以帮助您满足最严格的最后期限。我们甚至重造这线!再次感谢n0MAD神
C4D R17破解版安装方法:
安装。运行C4D R17注册机。检查更新,就可以下载Cinema 4d R17完整版中文语言包。
Cinema 4d.exe -系统错误
无法启动此程序,因为计算机中丢失MSVCP120.dll。尝试重新安装该程序以解决此问题。
请安装Redist:https://www.sendspace.com/file/7lxk8x
官网:http://www.maxon.net/products/new-in-cinema-4d-r17/overview.html
新功能介绍视频:http://blog.sina.com.cn/s/blog_710225790102vif7.html
革命性节省宝贵的时间。新的颜色选择器,实现你甚至不知道你想要的那些东西,你一直想要的色彩搭配 c4dsky.com,以及东西!同时整合集成SketchUp和霍迪尼引擎,进行Cinema 4D理想的枢纽。实现创造力流程。
建模
板载带实时反馈花键的工具
配备了一个完整的花键工具 - 无需切换到外部c4dsky.com工具。轻松创建和修改样条CINEMA 4D的新的钢笔工具,素描,平滑,弧度工具和布尔命令。
雕刻
直观和高效的有机造型
新功能和改进的Cinema 4D R17雕刻功能。用造型来PoseMorph,例如,加快角色动画。容易雕刻与边缘检测硬表面模型。
改进渲染
更好的可变性和实用性的新变化,新着色器
C4D R17提供了新的和扩展的着色器,以提高可用性(书生原创文章)和性能。随着新材质覆盖功能,您可以轻松地覆盖用料上专用通道创建粘土或磨砂呈现。
改进动画
大大提高了运动跟踪功能
3D集成资产注入的视频变得更容易。在Cinema 4D,运动跟踪功能已得到增强,加入校正镜头畸变的能力,并通过添加一个直观的工具,用于快速消除轨迹点的问题。
Cinema 4d R17新功能:
Cinema 4D R17 – 动画功能改进Animation Improvements
Cinema 4D R17 – 运动跟踪器增强功能Motion Tracker Enhancements
Cinema 4D R17 – 材质覆盖Material Override
Cinema 4D R17 – 变异着色器Variation Shader
Cinema 4D R17 – 雕刻功能的改进Sculpting improvements
Cinema 4D R17 – 样条曲线工具Spline Tools
Cinema 4D R17 – 整合Sketchup Integration
Cinema 4D R17 – 书架生成器预设Bookshelf Generator
Cinema 4D R17 – 更新内容库Updated Content Libraries
Cinema 4D R17 - 颜色选择器Color Chooser
Cinema 4d R17完整版磁力下载地址(不用解压,记得用虚拟光驱加载ISO文件安装C4D:http://pan.baidu.com/s/1dFz8Dxf):
链接:http://pan.baidu.com/s/1hqfIoOO 密码:maa4
Redist:
https://www.sendspace.com/file/7lxk8x
【书生官方淘宝店】                点击自愿赞助C4DSKY.COM网站 【送精品资源】
下面是英文版介绍新功能:
All New Features of CINEMA 4D Release 17
Rendering
New Variation Shader
New Display Color Shader
Filter Shader: New Checkbox to switch color grading on/off
New Formula Shader
New Lens Distortion Shader
New Lens Distortion render effects
New Take System
New Token System
Global Material Override
Team Render Improvements
Watermark Post-Effect now support Takes
Modeling
New Spline Sketch Tool
New Spline Pen Tool
New Spline Arc Tool
New Spline Smooth Tool
New Spline Boolean Commands: Substract, Union, And, Or, Intersect
Spline Mask supports new boolean modes
Spline Mask now supports more than two splines
New behavior of the ESC key
New Trackball navigation mode
Mesh Check Enhancements
Poly Pen Enhancements
Animation
New Euler Filter
New Autotangent modes
Weighted Tangents
Fixed Slope Autotangent mode
Remove Overshoot Flag
Auto Weighting Flag
Timeline Enhancements
New Preferences
Link Key/Fcurve Selection
OM Single object linking
OM Single object linking but displays the tags
FCurve ListView
FCurve Non-hierarchical listview
Changes:
Tab instead of space bar to switch between Dopesheet/Fcurve
Improved shift behavior
Space bar now plays but only when Timeline is active
The interactive update now also work in Dopesheet mode
General speedup
Now there are 2 Timeline commands (to open Dopesheet or FCurve)
Zoom to cursor
Extended marker to range markers and added color
Show tangents of selected curves
User Data groups are now also displayed in the Timeline
When the preference "Track Color" is set to Track Color, the tracks names are also colored in the list views
HPB should now has the correct color order.
There is a new deselect command so that CTRL-Shift A can deselect everything
The Timeline now remembers the last active area (Object area or main area) and then selects/deselect all accordingly
New "Lock Ratio" command for locked zooming in FCurve Mode - shift toggles between locked/not locked ratio
Powerslider Enhancements
CTRL-Shift to create markers
There are new commands in the context menu of the Powerslider
Double click in the lower area of the Powerslider extends the range to the document range
Extended markers also displayed in the Powerslider
Optimized default behaviours
Sculpting
Erase Brush: New "Erase Masked" button
New "Sculpt To PoseMorph" command
Grab Brush: New Surface Distance Option
Stencil Tile Preview
Flatten Brush: NewFixed Plane Option "Custom Plane"
Radial Symmetry supports a custom center point
Sculpt Brushes now Support Guide Snapping
Backface Sculpting Option
Edge Detect Option
Mask Brush Improvement
Symmetry Dialog: New "Find nearest point" option
Python
BrushDabData
SculptBrushParams
SculptObject
C++
lib_sculptbrush.h
SculptMouseData
Spline Brush SDK Example
Other Additions
lib_sculpt.h
Motion Tracker
New Graph View with Top-Down and Graph mode
Lens Distortion Tool for Camera Calibrator and Motion Tracker
Exchanges
New OBJ Import/Export with support for materials
New Sketchup Import
FBX now supports Takes
AE now supports Takes
Pipeline
Integration of the Houdini Engine
Workflow & Interface
New Color Chooser
Bitmap Shader has a new function to locate the file in Finder/Explorer
"Locate Image..." now works correctly for presets
Naming tool now also works with Tags, Materials, Layers and Takes
Enhanced Camera HUD
Rendersettings HUD
Attributes Manager: New Layer mode
Material Editor: Presets for refraction
The last selected objects gets a different highlight color in the Object Manager
The Texture Manager now can remove links to Textures (e.g. Textures in deactivated channels)
The PictureViewer now also displays the frame number of the rendered frame.
The rendertime display moved to a more prominent place in the PictureViewer
The cursor keys can now be used to navigate the Texture Manager
Other
Metaball Enhancements: New "Line" and "Triangle" types, "Accurate Normals" method
Threaded redraw of texture custom user interface
Automatic network proxy detection
Viewport Dither
New command line parameter to render Takes
Merge now supports Takes
New Override Node for XPresso
New OpenGL base system Context, OpenGL 3.2 required
Image loaders are now interuptable. This allows early exit for threaded user interface updates.